---
Lieutenant Colonel Kenneth John Bladen AM
---
Kenneth John Bladen was born in Western Australia and educated at Guildford Grammar School. He later graduated as a Second Lieutenant from the Australian Army Officer Cadet School as a career Infantry Officer and for the next 21 years served in various regimental, instructional and staff appointments in Australia and overseas.
His service as a junior officer included anti-terrorist operations in Malaya as a platoon commander, and as a foundation officer of the Special Air Service (SAS) Company in Perth.
He served overseas with the lst, 2nd, and 7th Battalions of the Royal Australian Regiment, and in 1967 he saw active service in Vietnam as an Infantry Company Commander with the 7th Battalion, the Royal Australian Regiment.
Ken was a graduate of the Australian Staff College 1968 course and won the Queen's Medal for Champion Shots in 1969, as the Army Champion Shot for that year.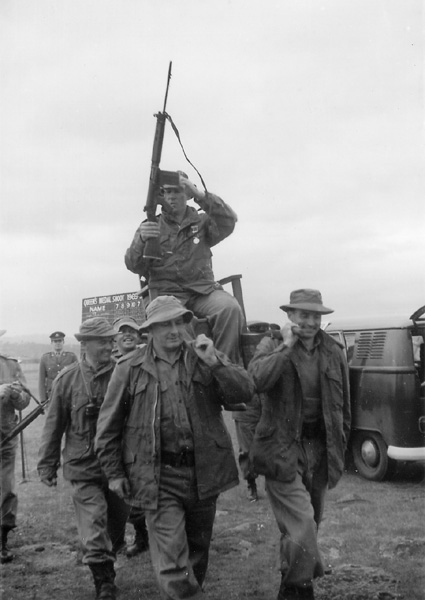 T. C. Simpson Rifle Range, Pontville, Tasmania.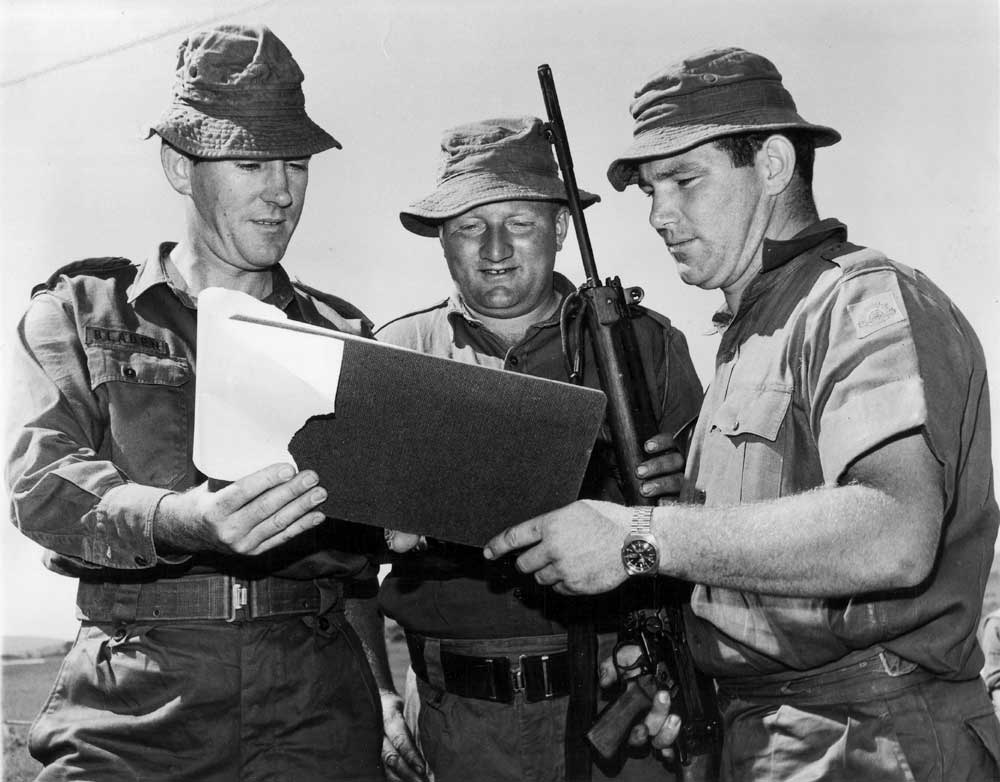 Left to Right: Major Ken Bladen, Corporal Davey, Private Simpson
Photograph courtesy of The Mercury.
As a Lieutenant Colonel he commanded the Third Cadet Brigade in 1973-1974, and later served in the Australian Army Reserve retiring in 1984 after 30 years service.
An RSL member since 1968, he was elected State President of the Western Australian Branch of the Returned and Services League in 1998, serving in that capacity until 2001. He was appointed Honorary National RSL Vice President for Life and awarded RSL Life Membership in November 2001.
In January 2003 he was appointed a Member of the Order of Australia for voluntary services to veterans and their families. Later that year Ken was awarded the Centenary Medal for similar services to veterans and their families.
Ken and his wife Stephanie have three grown up daughters Louise, Penny and Emma.
Information courtesy of Ken Bladen.
HOME