---
Warrant Officer Joseph Rudolph Hennick CD
---

Joseph Rudolph Hennick enlisted in the Canadian Army in 1958 and initially served with the 1st Battalion, The Black Watch Regiment.
In 1964 he was a member of the 1st Battalion, The Black Watch Regiment Rifle Team which won the Letson Trophy at the annual Canadian Army championships (the forerunner of the current CAFSAC) and went on to compete for the Canadian Army at Bisley, Surrey in the United Kingdom in 1965. This was to be the first of two appearances by Hennick at Bisley.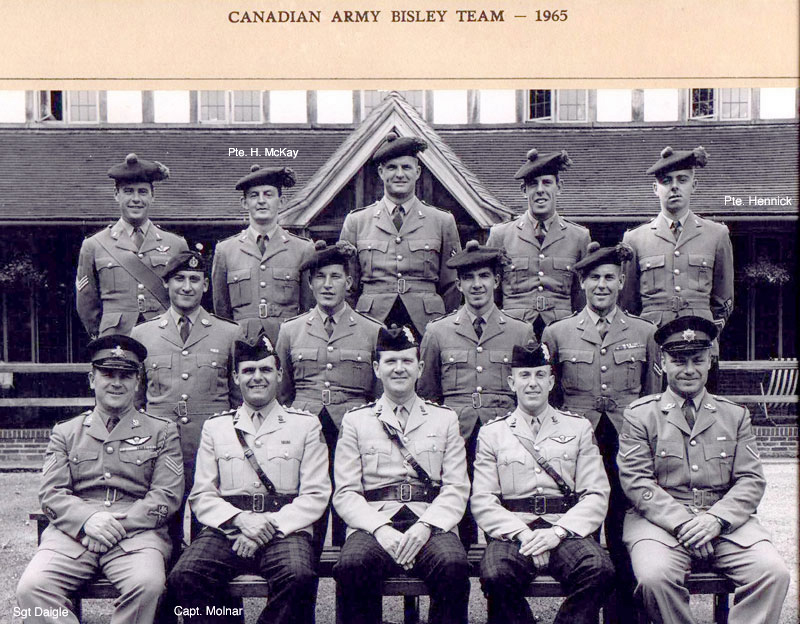 Canadian Army Rifle Team. Bisley, England 1965.
Front (left to right): Sgt.J. E. Daigle, Capt. W. J. Molnar, Capt. J. S. MacAulay, Lt. L. R. Joudrey, L/Cpl. F. Unger.
Centre (left to right): Tpr. J. Kabatoff, Sgt. H. E. O'Neil, Pte. D. G. Forsythe, Cpl. A. W. J. Connors.
Rear (left to right): Sgt. V. L. Kavanagh, Pte. H. McKay, Cpl. C. E. Hockett, Cpl. D. W. G. Spicer, Pte J. R. Hennick.
Sgt. J. E. Daigle (1963/66/70) and Capt. W. J. Molnar (1964) were Queen's Medal winners at the time.
Pte Hennick and Pte McKay subsequently went on to win the Queen's Medal in 1971 and 1978 respectively.
Transferring to the 2nd Battalion, The Royal Canadian Regiment in 1966, Hennick continued his service shooting and was selected to be a member of the Regimental team which won the 1970 Prix Lecrec competition in Germany, and in which Canada triumphed against teams from five NATO Countries.
QUEEN'S MEDAL
On the 8th and 9th of August 1971 the Canadian Forces (Regular) Small Arms Competition (CAFSAC) was held at the Connaught Ranges in Ontario, Canada.
At the time, Master Corporal J. R. Hennick CD, was a member of the 1st Battalion, The Royal Canadian Regiment, having transferred back into the Regiment in 1970. This was not his first Queen's Medal competition, but it would prove to be his most successful. Firing the FN C1A1 7.62 rifle, Hennick posted a record score of 681. This score won him the Queen's Medal for 1971 and broke the previous record score of 670 points.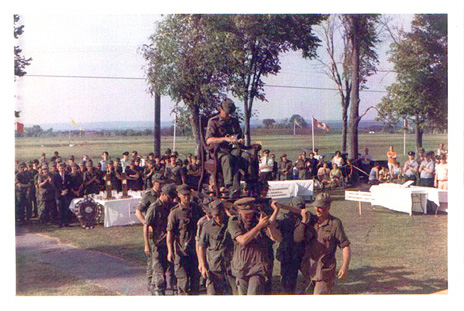 The London Free Press later reported:
"London corporal wins Queen's medal

"SOUTH MARCH (CP) - Joe Hennick, a Royal Canadian Regiment corporal stationed at London, captured the Queen's medal, a premiere award for military marksmen at the Dominion of Canada Rifle Association championships Sunday.

"Hennick scored 681 of a possible 755 points in the difficult competition in which shooters use the C1A1 regular military rifle at a variety of distances and targets. One point back was RCR corporal Henry McKay stationed at Gagetown, N. S."
The Queen's medal was presented by Lieutenant General D. A. G. Waldock, and a second, subsequent presentation was made by Colonel Simpson, Base Commander CFB, London.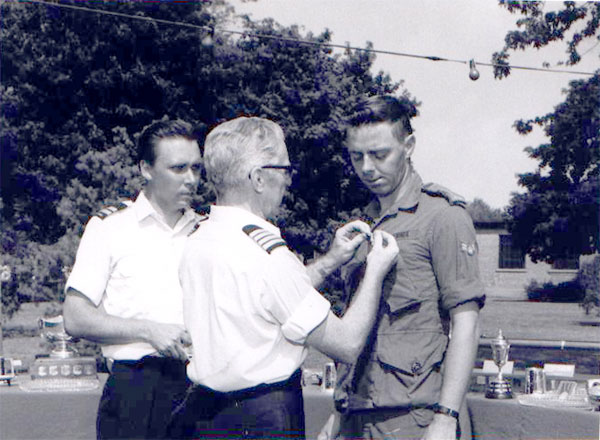 Left to Right: Colonel Simpson, Captain Leitch, Master Corporal Hennick
The Military Orders issued shortly after the competition carried the following description:
"CANADIAN FORCES (REGULAR) SMALL ARMS COMPETITION CONNAUGHT RANGES..

"...MARKSMAN FOR THE 1ST BATTALION, ROYAL CANADIAN REGIMENT, LONDON, ONT., LED BY MASTER CORPORAL JOE HENNICK OF SYDNEY, N.S., HAVE WON THE CANADIAN FORCES (REGULAR) SMALL ARMS COMPETITION AND WILL GET A CRACK AT BISLEY NEXT YEAR.

"OVER TWO HUNDRED MILITARY MARKSMEN COMPETED IN THE WEEK-LONG COMPETITION HELD AT CONNAUGHT RANGES, 10 MILES WEST OF OTTAWA FROM AUGUST 8.

"...HENNICK 31, AND HIS MATES WON 14 INDIVIDUAL AND TEAM TROPHIES INCLUDING THE QUEENS MEDAL AND THE LETSON TROPHY. FOR JOE HENNICK IT MARKED THE FIRST TIME HE HAD WON THE BIG PRIZE - THE QUEENS MEDAL - AND HE RECEIVED THE FULL MEDAL TREATMENT. A SHOULDER RIDE FROM HIS TEAM MATES AND A PIPER ESCORT TO THE PRESENTATION PLATFORM WHERE THE QUEENS MEDAL WAS PRESENTED BY LIEUTENANT-GENERAL DAG WALDOCK CHIEF OF TECHNICAL SERVICES, CFHQ.

"THE LETSON TROPHY, PRESENTED TO THE CHAMPIONSHIP UNIT RIFLE TEAM, WAS WON BY THE 12 MEN FROM 1 RCR. THE TOP NINE SHOOTERS ARE GUARANTEED A BERTH ON THE 1972 CANADIAN TEAM AT BISLEY. THREE ADDITIONAL MEMBERS FOR THE TEAM WILL BE CHOSEN FROM THE TOP THREE SCORERS IN OTHER RIFLE EVENTS AT THE MEET.

"THE MEET HAD A DRAMATIC FINISH. IN THE FINAL MATCH FOR THE QUEENS MEDAL, TWO FRIENDS BATTLED RIGHT DOWN TO THE WIRE. CORPORAL HENRY (HAWK) MCKAY 2 RCR REPRESENTING THE COMBAT TRAINING CENTRE AT CFB GAGETOWN FINISHED JUST ONE POINT BACK OF CORPORAL JOE HENNICK. BOTH MEN WERE ON THE 1965 BISLEY TEAM. ENDS"
The Battalion Orders reported:
"RCR REPRESENTS 2 COMBAT GROUP AT CONNAUGHT RANGES.

"...A team composed of 1 RCR and 3 RCR shooters represented 2 Combat Group at the Canadian Forces Regular Small Arms Competition held at Connaught Ranges from 2nd through 8th of August 1971.

"Capt T.E. Leitch (1 RCR) was the Team Captain (non-shooting) and with Sgts W.A. Cox and J.T. Cruden was responsible for the training and administration of the team.

"...Mcpl J.R. Hennick (1 RCR) won the "Queen's Medal" (the best shot in the Regular Forces) with a score of 681 points of a possible 755. This score broke the previous record of 670 points. Cpl McKay (2 RCR), firing as a member of the Combat Training Centre, placed second with a score of 680 points."
After his success in the Queen's Medal competition Master Corporal Hennick went on to achieve further success in service rifle competitions. In 1972 he was a member of the Canadian Team to Bisley for a second time.
The Cape Breton Post reported: July 17 1972
"Sydney, N. S. marksman perfect in Bisley shoot

"BISLEY, England (CP)-A Canadian marksman hit a bull's eye 20 times at 200 yards as the annual Bisley rifle shoot opened under blue skies and a hot sun.

"In the sitting event for servicemen, Mast. Cpl. Joe Hennick of Sydney, N.S., shot a possible in his first round Monday and later edged out his opponents in a tie-breaker to take first prize.

"J. Hennick, 32, member of the 1st Royal Canadian Regiment, shot 50 out of 50, finding the bull's eye with all of his 10 shots using a service rifle from a sitting position at 200 yards.

"This score tied with two other possibles by Royal Navy officers after the first round. In a three-way tie-breaker, Hennick repeated his earlier crack performance scoring another possible to put him two points ahead of his rivals.

"Making his second trip to the Surrey Ranges, Hennick won the Events challenge cup and 5 Pounds ($13 prize money) in a strong field of 342 competitors, including the reigning champions of the Royal Air Force and the Royal Navy.

"...Team commandant Capt. Tom Leitch, 36, of London, said Canada "seems to be holding its own in the competitions so far." "Some of our scores have fallen behind those we shot during practice rounds," he said. "Still, no one can complain about Hennick's performance. He shot superbly."

The army marksman entered the opening rounds of the Queen Mary event today. This includes surmounting a tough obstacle course with loaded rifle before taking aim, at targets 500 yards away.
The cup and prize money for the Challenge Cup were presented to Hennick by Dr Roger Bannister the first man to break the 4 minute mile.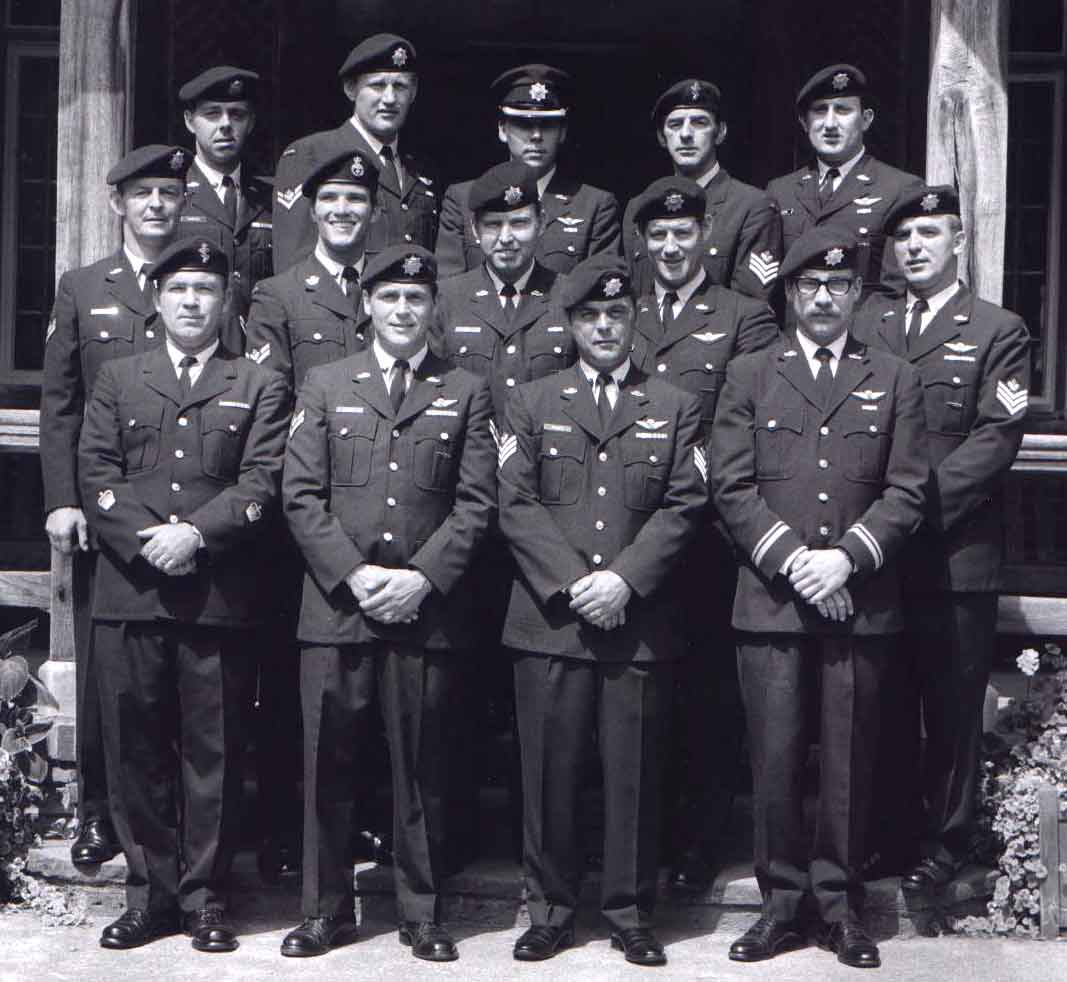 Canadian Armed Forces Rifle Team. Bisley, England 1972.
Front (left to right): WO Jollymore (Team Armouer), Cpl. A. L. Legoff, Sgt. Jerry Malott, Lt. R. M. Burrows.
Centre (left to right): Cpl. Hawk McKay, Cpl. Ted Luscombe, Cpl. Bill Pye, Cpl. Dave Boudreau, Sgt. Raymond O'Quinn.
Rear (left to right): MCpl. Joe Hennick, Cpl. R. L. Conrad, Capt. T. E. Leitch, Sgt. Robert L'Heureux, Cpl. Jim Lauzon.
Absent: Cpl. A. L. Gallant.
Three members of the 1972 team went on to win the Queen's Medal. Sgt. L'Heureux (1973), Cpl. Luscombe (1977) and Cpl. McKay (1978),
The London Free Press reported:
"July 1972 Canada takes top prize in Bisley rifle shoot

"BISLEY, England (CP) - For the first time in Bisley history, the Canadian Army won the top military shooting prize, outfiring the RAF Friday for the United Services Challenge Cup.

"The eight-man Canadian team scored a total of 1,328 points out of a possible 1,600 in the combination shoot while the RAF's runnerup team had 1,318 points. The British Army and the Royal Navy came third and fourth.

"As the Canadians planned a big celebration, team adjutant Lieut. R. M. Burrowes of Thunder Bay said: "Our feelings border on elation."

"The military marksmen had been a big disappointment with their early performances at this year's Bisley competition but their eyes sparkled as they got "the big one."

"In addition to the cup, which went into competition in 1880, each team member gets a silver medal.

"The winning Canadian team and individual scores: Cpl. Jim Lauzon, Tillsonburg, 180; Cpl. Dave Boudreau, Exeter, 178; Sgt. Jerry Malott, Kingsville, 167; Cpl. Al Legoff, Richibucto, N.S., 167; Master Cpl. Al Gallant, Richmon? P.E.I., 165; Cpl. Ted Liscombe, Langley, B.C., 16?, Master Cpl. Joe Hennick, Sydney N.S., 162; Sgt. R. ?. O'Quinn, North Sydney N.S., 147.

"Keen on capturing the prize, the Canadians came close in 1970, when they were runnerups to the British Army winners. More often they had placed third or fourth.

"The United Service competition is a combination shoot with firing of two rounds each from five distances, starting at 500 yards and working down the range to 100 yards."
And subsequently:
"Canadian marksmen place third in Hythe competition

"By IAIN MacLeod

"BISLEY, England (CP) - A four-man Canadian army team placed third out of 44 entries in the coveted Hythe Challenge Cup shoot at the National Rifle Association meeting Tuesday.

"Individual Canadian Forces marksmen were also in a strong position in an elimination contest later in the day returning four high scores.

"It was a disappointing result, however, for the Canadian "A" team in the Hythe. Last year, the Canadians won the trophy setting a record in the competition with 352 points out of a possible 400.

"This year the Canadians managed to chalk up only 323 for third place. The winners, a team from Britain's 2nd Royal Green Jackets, bettered the Canadian record by one point, scoring 353.

"The Hythe is a team aggregate based on total scores in contests of 10 rounds in a standing position and 10 rounds in a kneeling or sitting position. Both stages are shot over 300 yards.

"Individual Canadian "A" team scores were: Cpl. Dave Boudreau, Exeter, 87 out of a possible 100; Sgt. Ray O'Quinn, Sydney, N.S., 80; Sgt. Robert L'Heureux, Quebec, and Cpl. Jim Lauzon, Tillsonburg, 78. Runner-up in the competition was a team from Britain's Fleet Air Arm with a total of 333 points. The Canadian "B" team came sixth with a score of 314. Individual points for these Canadian riflemen were: Cpl. Joe Hennick, Sydney, N.S., 84 out of a possible 100: Cpl. Hawk McKay. New Waterford, 81: Sgt. Jerry Malott, Kingsville. 81, and Cpl. Al Gallant. Richmond, 68."
Joe Hennick and Joe Daigle at Bisley, 1965.
The following story also appeared about Canada's efforts in both the Civilian and Service meetings:
"London RCRs win two Bisley titles

"BISLEY, England (CP) - "I don't think I've ever seen so much silverware in the Canadian pavilion," veteran Bisley marksman Gunnar Westling of the Dominion of Canada Rifle Association said after Canadian participants in this year's shoot had returned to the club house with their prizes.

"But the one trophy every Canadian was after on the Surrey ranges, the Queen's Prize, was not among the dazzling display of cups in the pavilion.

"Alain Marion, DCRA member from Hull, Que., came within inches of clinching the premier award but took second place because he did not punch as many rounds into the central V bulls-eye of the target as did the winner, Richard Rosling of Britain.

"Nonetheless, Canada won 12 trophies as individual contestants and teams. Among major wins, the services team, selected from the 1st Royal Canadian Regiment of London, clinched the United Services and Inter - Services Short Range Challenge Cups. This is the first time these two major services trophies have been won by Canada.

"The DCRA snatched the premier team challenge cup, the Kolapore, from last year's winner, the British Rifle Association, after a neck-and-neck tussle."
Upon his return from Bisley, Hennick competed at CAFSAC in 1972.
The London Free Press reported (August 1972):
"Corporal captures shoot title

"SOUTH MARCH (CP) - Cpl. William Rice of London, Ont., won the individual rapid-fire match for sub-machine-guns Wednesday in the Canadian forces small arms competition at nearby Connaught Ranges.

"The deliberate-fire sub-machine-gun match was won by Cpl. Daniel Gauthier, of Lac aux Sables, Que.

"The falling-plates target competition was won by a team from the Royal Canadian Regiment comprising Master Cpl. Joseph Hennick of Sydney, N.S.; Cpl. Joseph Gallant, of Richmond, P.E.I., Sgt. Raymond O'Quinn, of North Sydney, N.S. and Sgt William Malott, of Gainsville, Ont.

"The light automatic rifle match was won by a team from the Royal 22nd Regiment made up of Cpl. Laval Mercier, of Loretteville, Que.; Cpl. Blanchard, of Neufchatel, Que., and Cpl. Gaston Daigle, of Ste. Therese de Lisieux, Que.

"The week-long match ends Saturday."
1973 found Hennick as a member of the 1st Battalion, The Royal Canadian Regiment team which won the Northern European Command Competition against four European nations. This is the only time that Canada has ever won the competition.
Hennick went on to serve overseas on a peacekeeping mission to Cyprus in 1974-1975. After leaving Cyprus Hennick was posted to #3 Mechanized Commando in Germany where he served as a Platoon Warrant Officer and then as Battalion Transportation Warrant Officer until his return to Canada in 1979.
He retired from the Canadian Army in 1980 having attained the rank of Warrant Officer, and soon found employment with Canada Post with whom he worked for 19 years before retiring in 2000.
He lives with his wife of 45 years in London, Ontario, and enjoys reading, walking, biking, genealogy and spending time with his two children and three grand children. He still keeps his eye in with some occasional small bore rifle shooting.
Information and photos courtesy of Joe Hennick.
HOME