---
Lieutenant Commander Neville C. G. Peach RNZN
---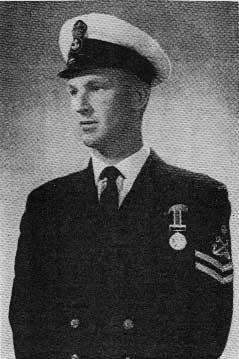 Petty Officer N. C. G. Peach R.N.Z.N. 1958.
Neville "Sandy" Peach was born at Rangiora, New Zealand on 8 January 1929 to Cecil and Annie (nee Genders) Peach.
As a boy growing up during the war years he was proficient in target-shooting with an ancient 'Daisy' lever-action 'slug' gun before joining the Christchurch Sea Cadet Unit in about 1941 where he was encouraged and did well in .22 rifle target shooting.
He attended Christchurch Boys' High School where as a cadet he shot at the Redcliffs Rifle Range using a SMLE No. 4 .303 rifle. He was also a member of the School's Empire Challenge Shield Team (SMLE No.4 Morris-Tube .22) which shot at the King Edward Barracks indoor range.
He entered the Royal New Zealand Navy in January 1947. Unfortunately, colour blindness (red/green deficiency) restricted his entry to the non Seaman Branches so he chose to enter the Medical Branch as a Sick Berth Attendant.
He shot well on the 25 yard range (using a SMLE No 4. .303 rifle) at HMNZS Tamaki (a RNZN training establishment) and played rugby for the Navy during the next six years. He represented the Navy in the New Zealand Combined Services Team for most of that time.
During the Korean War (1950-51) Peach served in the Loch Class Frigate, HMNZS Rotoiti. He was a member of a landing party which carried out two commando style raids behind enemy lines on Korea's West Coast, taking two prisoners but losing one New Zealand sailor.
In 1952 he married Joan Hornby (who actually held the first .22 shooting trophy in the household!) and had three sons (Ian, Craig and Blair).
In 1955, while serving as a Petty Officer in HMNZS Tamaki, Peach took up service shooting and represented Tamaki at inter-ship and Combined Services Individual and Teams Competitions which were held at the Army's Ardmore Rifle Range at Papakura south of Auckland. In 1965 the competitions moved to the Navy's Whangaparaoa Range north of Auckland.
The New Zealand Combined Services Small Arms Association Championship Meetings, at which the early Queens Medal competitions were contested, were initially held at the Army's Trentham Ranges at Upper Hutt north of Wellington. After 1965 the Navy Queens medals were also competed for at the Whangaparaoa Range.
In the early 1970s the Navy's combined inter-ship and Queens Medal Championships moved away from the practice of rifle only competitions to a competition comprising a combined aggregate of scores for rifle (7.62 L1A1), pistol (9mm Browning) and sub-machine gun (9mm Sterling) practices. Peach won many individual and team trophies in all of these disciplines.
After qualifying for commissioned rank, Peach was promoted to Sub Lieutenant (Wardmaster) in 1960, Lieutenant in 1963 and Lieutenant Commander in 1971. He retired from the Navy in 1977 with the rank of Lieutenant Commander to take up the first of two civilian administrative positions.
Lieutenant Commander Peach won an unprecedented 10 Queen's Medals between 1958 and 1973 (1958, 1959, 1960, 1961, 1962, 1963, 1964, 1965, 1970 and 1973) a record which stood for 30 years until surpassed by Chief Technician John Prictor (RAF) in 2003. However, he still holds the record for consecutive wins - being 8 from 1958 to 1965.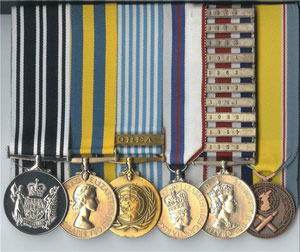 He was a member of the New Zealand Full Bore Rifle Team which toured Australia in 1976 and which competed against Australia and Japan at the Canberra Range and was later Adjutant and team member of the New Zealand Rifle Team which toured Britain (Bisley), Scotland and Canada (Ottawa) in 1982.
In about 1980 organised, on behalf of the National Rifle Association, a massive re-loading exercise involving the four Wellington Clubs, Upper Hutt, Petone, Onslow and Karori to meet the requirements of the then forthcoming annual New Zealand Champioship Meeting. The quantity of ammunition prepared was in excess of 100,000 rounds.
He shot for the Upper Hutt Rifle Club from 1970 to 1983. He is credited with achieving the Club's first double possible at 600 yards (7.62), and the first individual possible at 1000 yards
In addition to his successful shooting career, Peach was involved in the administration of RNZN Rifle Association affairs for many years and was involved in full-bore shooting administration at club, regional and national level up to 1983.
He retired from competitive shooting in 1985 and took to Masters Grade cycle racing and has won numerous trophies over the years up until 2002. He rides a mountain bike off-road for fitness.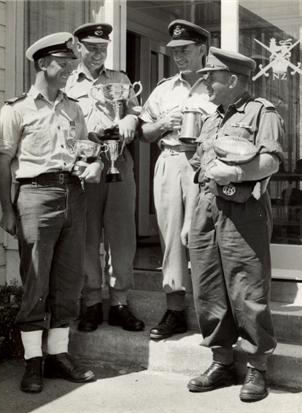 Officers' Mess, Trentham Military Camp, Wellington 1961
Left to right:
Acting Wardmaster Sub Lieutenant Peach (Champion Belt runner-up and Navy Queens Medal). Peach is also holding the White Wickham Cup for the Navy Champion.
Flight Lieutenant Graham C. Derby RNZAF (Revolver Cup winner and later RNZAF Queens Medallist in1963)
Wing Commander Gunton RNZAF (holding the RNZAF Revolver tankard?)
Lieutenant Jack Wooster NZEME (winner of the Champion Belt and Army Queens Medal and subsequently a 4 time Army Queens Medallist).
Sub Lieutenant (Wardmaster) Peach being presented with his 6th Queen's Medal at the New Zealand Combined Services Smallarms Association Championships in 1963
Two of Peach's sons, Ian and Craig, also served in the Navy. Craig was the runner-up for the Queens Medal in 1978 at Whangaparaoa.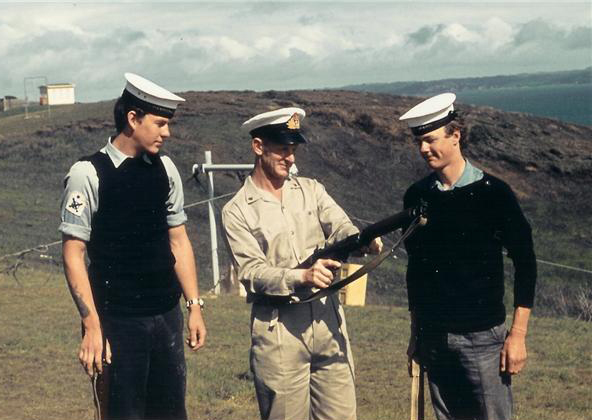 Whangaparaoa Naval Range -1976
Left to right: Weapon Mechanic Ian Peach, Lieutenant Commander Neville Peach, Radio Mechanic Craig Peach.
Information and images courtesy of Neville Peach.
HOME