---
Royal Australian Navy
---
The Champion Shots Medal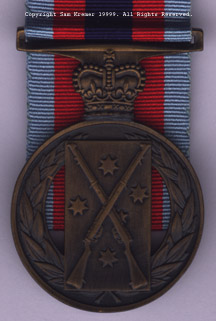 | | | | | | |
| --- | --- | --- | --- | --- | --- |
| Year | Rank | Given Names | Surname | Unit/Formation | Score |
| 1988 | CPOCOX | William (Bill) Kenneth P. | Sheather | HMAS Nirimba | 465 |
| 1989 | CPOCOX | William (Bill) Kenneth | Sheather (2) | HMAS Nirimba | 530 |
| 1990 | WOQMG | Colin Stanislaus | Dowd | HMAS Cerberus | 554 |
| 1991 | LCDR | Peter Robert | Kelly | HMAS Lonsdale | 595 |
| 1992 | LSQMG | Peter Ross | Male | HMAS Watson | 578 |
| 1993 | LS | Warren (Wally) John | Bowring | HMAS Cerberus | 604 |
| 1994 | LCDR | Peter Robert | Kelly (2) | HQ ADF | 641 |
| 1995 | CPOB | Alan | Willmore | HMAS Cerberus | 661.49 |
| 1996 | CPOB | Michael (Mick) Gavin | Hoare | School of Infantry | 645.59 |
| 1997 | CPOB | Michael (Mick) Gavin | Hoare | School of Infantry | 653.50 |
| | LCDR | Peter Robert | Kelly (3) | HMAS Cerberus | 678.55 |
| 1999 | POB | Peter Francis | Edwards | HMAS Cerberus | 639.47 |
| 2000 | LSRO | Graeme Taylor | Morgan | HMAS Harman | 559.32 |
| 2001-3 | - | - | No Competition# | - | - |
| 2004 | POB | Michael Edward | Blake | HMAS Cerberus | 1066.68 |
| 2005 | LSATV | Josh | | 816 Squadran | 1143.83 |
| 2006 | LSATV | Josh | Kelly (2) | TA-AVN | 1191.83 |
| 2007 | - | - | - | unknown - (email me information) | unknown - (email me information) |
| 2008 | - | - | - | unknown - (email me information) | unknown - (email me information) |
| 2009 | Leading Seaman | A. | Wheeler | HMAS Albatross | unknown - (email me information) |
| 2010 | POB | Peter Francis | Edwards (2) | unknown - (email me information) | unknown - (email me information) |
| 2011 | - | - | unknown - (email me information) | - | unknown - (email me information) |
| 2012 | - | - | unknown - (email me information) | - | unknown - (email me information) |
| 2013 | Able Seaman | C. | Benton | HMAS Darwin | 917.009 |
| 2014 | Petty Officer | G. | Orr | RAN Band, Sydney | 1010.022 |
| 2015 | - | - | Not Contested at AASAM | - | - |
| 2016 | Leading Seaman | C. | Moran | HMAS | 863.048 |
| 2017 | Petty Officer | M. | Day | RAN Band, Sydney | unknown - (email me information) |
| 2018 | Able Seaman | T. | Brooke | RAN Band, Sydney | unknown - (email me information) |
| 2019 | Sub Lieutenant | Jerome | Dillon-Baker | HMAS | 719.010 |
| 2020 | Sub Lieutenant | Jerome | Dillon-Baker (2) | 723 Squadron, HMAS Albatross | 753.005 |
| 2021 | - | - | - | - | - |
# The RAN and RAAF Champion Shots Competitions were not conducted in 2001, 2002 or 2003.
They were cancelled because Small Arms Wing (Army) changed the format of the matches and set the entry qualification criteria for rifle at Live Fire (LF) 15 without consulting the other services.
The RAN and RAAF considered that they were given insufficient information in time for competitors to achieve that standard so they cancelled the competitions.
To correct any of the information on this page, please contact me.