---
Senator Brigadier (Ret.) The Hon. Joseph Theodore
---

Regiment: 1st Battalion, Trinidad and Tobago Regiment
Chief of the Defence Staff
Minister for National Security in the Government of the Republic of Trinidad and Tobago.
Received:
General Service Medal
King's Medal (Army Medal) (EIIR) bar 1975
The following article appeared in Newsday, Friday, November 8 2002, page 6. Article by Francis Joseph.
MEN OF HONOUR
The six recipients of the General Service Medal at President's House. From Left are Captain Anthony Franklin, Brigadier Carl Alfonso,
Major General Ralph Brown, Brigadier Joseph Theodore, Brigadier John Sandy, and Rear Admiral Richard Kelshall.
Five former Chiefs of Defence Staff and a retired Coast Guard Commander were yesterday awarded General Service Medals for the roles they played in quelling the 1990 attempted coup in which the Jamaat At Muslimeen threatened to overthrow the democratically elected Government of the then Prime Minister ANR Robinson.
Coincidentally, it was Robinson as President of the Republic, who preúsented the medals to the "honourable men" at President's House yesúterday for the roles they played during the period July 28 to December 1990. The recipients were Brigadier General Joseph Theodore, Major General Ralph Brown, Rear Admiral Richard Kelshall, Brigadier Carl Alfonso, Captain Anthony Franklin, and Brigadier John Sandy.
But the man who headed the Defence Force during the 1990 insurrection was Brigadier Joseph Theodore.
Speaking with Newsday after the funcútion, Theodore said he had been involved in negotiations with Bilaal Abdullah, the Muslimeen man in charge at the Red House where Robinson and Members of Parliament were held hostage. Yasin Abu Bakr was in charge at TTT.
Theodore added , "there were many a time when I was at a lost for words as to what to say or how to direct the negotiations. As it turned out, I received a lot of support from the officers at headquarters.
The result showed that we were able to drag out the hostage taking to the point where the hostage takers themselves were anxious to get out. That was really the plan, it was real demanding though," the former CDS added."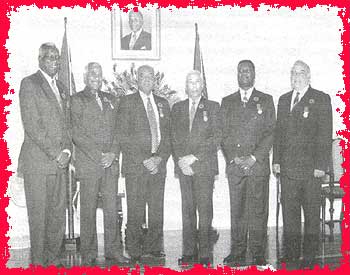 HOME